Using KGS to broadcast a non-KGS event
Anyone can use KGS to provide a broadcast of a game, providing they have the legal right to broadcast it. (Broadcasting a game without permission from the sponsor of the event is not legal, and will be prevented.) See the section below "How to do the broadcast" below, for the recommended method.
Using KGS to broadcast an important non-KGS event
If your game is sufficiently important, if for instance it is a final stage of a national championship, you can apply for it to be "evented" (i.e. moved to the top of the lists of games), and "announced" (an admin will make a conspicuous statement when it starts), and possibly mentioned in the KGS Message of the Day.
To apply, you should send an email to admin@gokgs.com with all the following information, at least a week before the game, and preferably several weeks in case your first email is lacking some information.
The name and a short description of the event
A link to the tournament website, and if possible to the result page
A schedule of the rounds, using the KGS gmt tag
The name of the "scribe", i.e. of the registered KGS account which will be used to do the broadcast. The scribe's "info" should also give the three pieces of information listed above.
To give the date and time of an event using the special GMT tags you should write exactly in the format <gmt>yyyy-mm-dd hh:mm</gmt> . In order: yyyy is the year, mm the month, dd the day, hh the hours and mm the minutes.
How to do the broadcast
Open a demo game in a public room.
Please add the names of the players, their ratings, and a game name (That can be done from the game window - click on the "Options" button then select "Rules". You can then fill the "White:", "W. Rank:", "Black:", "B. Rank:" and "Game Name:" fields. Press "OK" to validate.)
Please enter the kind of the rules (Chinese, Japanese, AGA, etc.), the komi, and the amount of time the players are allowed (main time and overtime). This is done by clicking on the Game Comment tab shown in the screen-shot below and entering the information there. For example, one might enter, "AGA rules, 6.5 komi, 1 hour main time, 1 minute Byo-Yomi time, 5 periods." Alternatively, please enter the web address of the tournament announcement.
Contact any admin online to tell them that the game is ready to begin, and ask for it to be announced and evented. The admin will check that you have followed the instructions above, before eventing and announcing the game.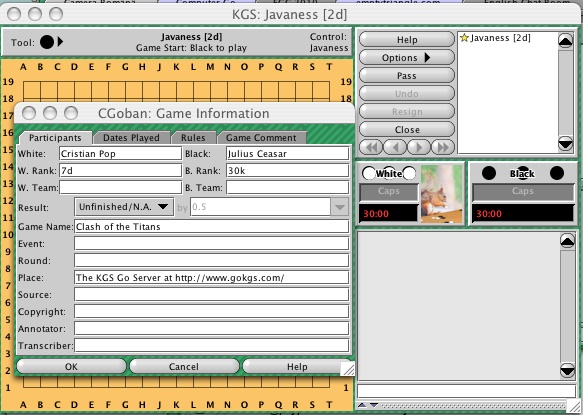 If users misbehave in the evented game, by pressing Cntl-M, you can disable all chat in the game. You can also contact an admin for assistance.
Up One Level —> Tournaments –> Related Links
Site Map —> Tournaments
Top
---