User Information Window
The User Info window is made up from 4 different tabs.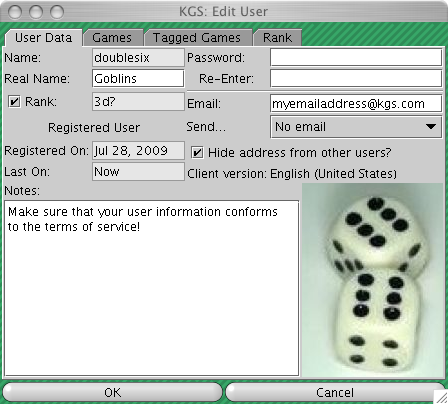 User Data - this contains the notes the User made about themselves. In your own User Data screen you can set your password. You can also see details about your user level (Guest, Registered User, Admin etc.), your KGS Plus Membership status, and your email address.
Games - This contains a list of all the games played in the past 6 months; you can filter the games by Ranked or All. Right click on the games to load them in a room. Click on bold games to join them.
Rank - This contains a picture of the rank graph
You can access any user's information window as follows.
The User Menu - View Users Information
In the room population list, right click on a name and select View Info.
In a private chat window click on the button in the top right marked Player Info.
In the new game window click on the question mark beside a player's name.
Up One Level —> Main KGS Window –> User Menu
Site Map —> Main KGS Window –> User Menu

---