Tournament Links
Entrants:
Games (all times are in GMT, click to choose your time zone):
If you are entered in a tournament, please make sure that you have read the KGS tournament guide.
EGC 2011 13x13 Computer Go (Winner: Zen19S)
Entrants will not be accepted after 09:00 French time, 07:00 UTC, on Monday August 1st.
Sponsor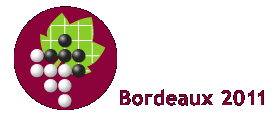 Rules
Round Robin, Simultaneous Schedule.
Prizes
The winner will have the opprtunity to play against a strong human player, on Wednesday August 3rd, starting at 13:30 French time, 11:30 UTC.