CGoban 3 Download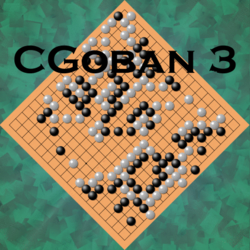 This web page has downloads for CGoban v3.5.22. The change log will tell you what is new in this version.
CGoban 3 has two parts:
An editor for SGF go files.
A client for the KGS Go Server.
If you download cgoban 3, you will be able to log in to the KGS Go Server without having to download the client every time. In addition, you can edit and create SGF Go files on your local disk with CGoban 3.
Java web start is needed to install CGoban 3. Java web start comes with newer versions of java. Once you have Java Web start installed, you can just follow the link below to install CGoban 3. After CGoban 3 is installed, Windows users can add it to their start menu.
If you prefer to use a different application as your default SGF (go file) viewer, then it can become annoying because Java Web Start will ask to switch every time you launch CGoban 3. In that case, use this version instead: CGoban 3 with no file association
Note to Linux/Unix users: Java web start is broken on many unix systems. If clicking on the links doesn't start the client, then try typing "javaws http://files.gokgs.com/javaBin/cgoban.jnlp" at a command prompt.
---
GTP Client (for Computer Go Programmers Only)
A GTP client that allows computer programs to play on KGS is also available. This is only for programmers, please do not send questions about GTP (other than bug reports in the client) to KGS. The client, with directions, is available in tar or zip formats:
---
If you have trouble with installing or running the software on this page, please contact KGS at admin@gokgs.com.
Have fun!